CASSIN'S SPARROW CO-188
Shortgrass Prairie of western Kansas, near Lake Scott State Park, Scott City, Kansas
June 6, 6:45 a.m.
Sunrise at 6:19 a.m.
A Cassin's sparrow singing at a leisurely pace, 17 songs over five minutes, a song every 15 to 20 seconds. His song repertoire size of three is played out in the following sequence, minute by minute:
A B B C
B B A
A B B
B B A
A C B
B . . .
In this brief selection he clearly favors song B, and song C is least used.
But that's only part of what he's up to. With every other song or so, he launches into the air, singing on the wing, sky-dancing around his territory.
Background
Western meadowlark, ring-necked pheasant, brown-headed cowbird, another Cassin's sparrow, mourning dove, grasshopper sparrow, horned lark.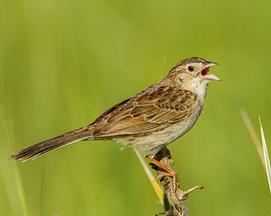 Photo by Wil Hershberger