MOUNTAIN CHICKADEE CO-214
The High Rockies: Alma, Colorado
June 14, 6:28 a.m.
Sunrise at 5:33 a.m.
The tsick-a-dee-dee-dee call of a mountain chickadee. But just listen to the wind roaring through these conifers high up in the Rockies where this bird makes his home.
Background
Another mountain chickadee in the background, but other than that, nothing but wind!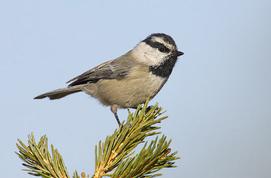 Photo by Robert Royse