SAVANNAH SPARROW CO-221
Arapaho National Wildlife Refuge, Walden, Colorado
June 19, 5:12 a.m.
Sunrise at 5:33 a.m.
A savannah sparrow, about five songs per minute, a song every 12 seconds. It's the standard song, take take take take-it eeeeeeeaaasssssssyyyyyyy. Just the one song over and over, with little variation. Calming, satisfying, nice.
Background
Sora, marsh wren, yellow-headed blackbird, ruddy duck, American coot, pied-billed grebe.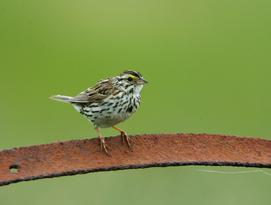 Photo by John Van de Graaff