VARIED THRUSH ID-304
Lolo Pass and Powell, Idaho
June 9, 7:00 a.m.
Sunrise at 5:44 a.m.
A varied thrush in superb form. I marvel at his songs, and try to imitate them by whistling and humming at the same time, the two voices then fighting each other and beating against one another. It's the same effect, it seems, that this thrush uses, beating its two voices against one another in such dissonant form.
I listen, wondering how many different songs he uses here, and I watch the sonagrams as I listen, my eyes and ears working together. I soon realize that four different songs predominate; try to follow along as you listen, hearing the first four minutes as follows:
A B C D B C A B
C D B C D C B
C A B C E A D
B C B D A B.
The first four songs in this selection provide a nice illustration of his four primary songs: A is mid-frequency and rather raspy and dissonant, B is lowest and has an intense ringing quality, C is mid-frequency and ringing, D is highest and mostly buzzy to our ears.
What an odd song E is, sounding more like an insect than a bird. This song doesn't occur until 2:42, and then later it recurs at 5:40, 6:16, 8:34, and the last song at 10:16. So this male has at his command five different songs, though he favors four of them.
Background
Townsend's warblers, a continuous conversation by common ravens (sounding almost like dogs barking), red-breasted nuthatch (0:42), Swainson's thrush, high thin call??, red squirrel, a vireo, western tanager, pileated woodpecker (calls: 2:31, 4:41).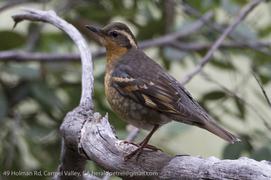 Photo by Brian L. Sullivan