FOX SPARROW ID-307
Lolo Pass and Powell, Idaho
June 9, 8:01 a.m.
Sunrise at 5:44 a.m.
One of the few things in life better than a singing fox sparrow is two singing fox sparrows! As I listen to the foreground bird, I hear him working only two different songs. The first three minutes are as follows:
A A B A B
A B A B A
B A A B A
I find that somewhat sad, given that most western fox sparrows have a larger song repertoire.
The fox sparrow in the background uses three different songs. Try your ears at distinguishing them, and as you do, notice how similar his third song (at 0:32) is to the immediately following song A of the foreground bird (at 0:39). Then listen to the foreground bird at 2:04, and immediately following is the very similar B song from the background bird.
Neighboring fox sparrows have unique song repertoires, but the song similarities between these two birds suggest that they share some parts of their songs as a result of song learning.
Background
Western tanager, Townsend's warbler, common raven, chipping sparrow, northern flicker, western wood-pewee, ruby-crowned kinglet, red-breasted nuthatch--a very nice series of sounds.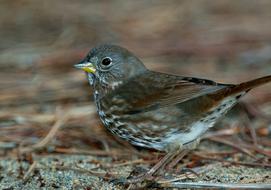 Photo by John Van de Graaff