KENTUCKY WARBLER, HOODED WARBLER KY-81
Daniel Boone National Forest, Kentucky: Cane Creek Wildlife Management Area
May 30, 7:48 a.m.
Sunrise at 6:18 a.m.
These two warblers are often heard together throughout the South. First up is the Kentucky warbler's chortling chuuree-chuuree-chuuree-chuuree-chuuree-chuuree-chuuree, followed immediately by the hooded warbler's pure weet-weet-weet-weeto. They seem to share the airwaves, with the four songs of the Kentucky never overlapping the six of the hooded.
Background
Tufted titmouse, blue-gray gnatcatcher, white-eyed vireo, indigo bunting, prairie warbler, eastern wood-pewee, summer tanager.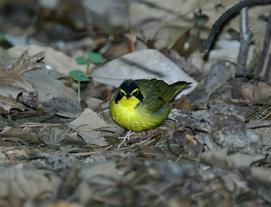 Photo by John Van de Graaff