YELLOW-THROATED VIREO MO-148
The Ozarks: Hawn State Park, St. Genevieve, Missouri
May 29, 7:00 a.m.
Sunrise at 5:42 a.m.
I always wonder what's in the head of these yellow-throated vireos. Why do some birds sing one song over and over, others alternate two obviously different songs, and others sing in more complex ways.
It is somewhat difficult to hear what this bird is doing, until one studies the sonagrams, which I of course have done.
He seems to have two packages of songs, as indicated by the following sequence of songs (in half-minute blocks):
A B C A B D E F G H
F G H F G H D E F G H
D E F G H D F G H D E
F G H D E F G H D F I? B
C A B C A . . .
One package of songs consists of songs A, B, and C (bold), which he delivers first and last in this sequence. Mostly, he sings his five-song package of D, E, F, G, and H.
Background
Carolina wren, tufted titmouse, indigo bunting, American crow, purple martin, wild turkey (at end). The tufted titmouse in the background sings the same song throughout, never switching.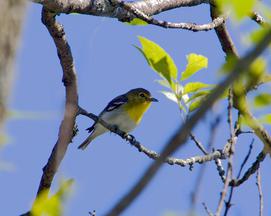 Photo by John Van de Graaff
Photo by Wil Hershberger