WESTERN WOOD-PEWEE MT-275
Alder, Montana
June 26, 4:50 A.M.
Sunrise at 5:42 a.m.
In 30 seconds, one knows what this pewee is capable of doing, but I listened to its entire dawn chorus. Here are the 13 minutes that I recorded.
From beside our tent in Alder, Montana, at a clip of about 40 songs/minute, this bird delivers minute after minute throughout the dawn chorus. He typically alternates his two songs, tswee-tee-teet (A) and bzeeyeer (B), but occasionally also throws in a third "song," a tonal tsweeeeeer (C, such as at 0:18, 1:20, 1:47, 2:17, 2:55,3:34, 3:54, 4:20, 4:36, and more). I'd love to know more about that third sound.
Here's what he does during the first minute alone, in 30 second blocks:
B A A B A B A B A B A C B A B A B A B A
B A B A A B A B A B A A B A B A B A B A A B A
I find it curious that his longest pause, of three seconds, is when a car passes on the road. He quickly resumes his torrid pace, however.
Background
Yellow warbler, Wilson's snipe, American robin; general hissy background noise of water and distant human-made noise, plus one vehicle passing.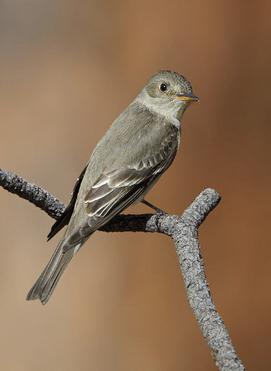 Photo by Robert Royse