BROWN-HEADED COWBIRD MT-281
Big Hole National Battlefield, Wisdom, Montana
June 6, 9:00 a.m.
Sunrise at 5:45 a.m.
Thirteen songs, punctuated by a complex flight whistle when he departs.
Try to follow along with his four different songs, given in the following sequence:
A B A B C B C B A B B C D
Using Raven-lite, I listen to him at slowed speeds, taking him down to one-fifth normal speed, then one-tenth, reveling in the details of what he does so quickly. I smile. This is no bird to detest; these are songs to admire. Very nice!!
Background
Yellow warbler, song sparrow, northern waterthrush, the North Fork of the Big Hole River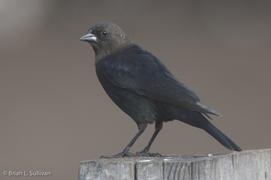 Photo by Brian L. Sullivan