AMERICAN CROW, BLACK-BILLED MAGPIE OR-226
Hell's Canyon, Copperfield, Oregon
May 27, 6:06 a.m.
Sunrise at 5:06 a.m.
Something has spooked these American crows. They congregate in a cluster of small trees on the hillside, seemingly focusing on and "mobbing" something beneath them. I watch for a fox or a coyote, anything that they might normally mob, yet I see nothing. The ruckus they create attracts the black-billed magpies, and as the intensity of the crow mobbing wanes, the magpies take the stage (story to be continued in OR-227!).
Background
Yellow warbler, Bullock's oriole.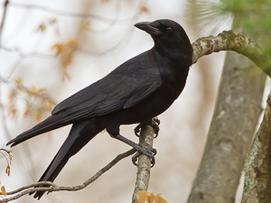 Photo by Wil Hershberger