TREE SWALLOW OR-363
Willamette Valley, William L. Finley National Wildlife Refuge, Oregon
May 23, 4:38 a.m.
Sunrise at 5:37 a.m.
Tree swallows abound at dawn, high overhead and out of sight, singing in the dark. This one has the characteristic rhythm to its dawn song, and I feel the repeating elements.
Needing to know more, I print out the sonagrams and identify each ten-second string:
A B A A C A C A C A C A B C A B C A C A C
B C A C A C B C A A C B C C A C A C A B A
C A B A C A A C A C A C A A C B C A C A . . . end of first 30 seconds.
(and skipping to the last ten seconds of this recording)
A C A C B A C A C B A C A B C A C A C B
Throughout these 80 seconds, he uses three different songs, with the underlined A-C sequence the dominant pattern.
A tree swallow can also be heard in the background, and I find it intriguing that at times he is close enough to see in the sonagrams that he also sings the song labeled A for this male, heard first at 0:05, as an echo of the foreground male.
But now I look more closely, and I see that the neighbor also sings song C! I see it best at 0:13.5, and again at 0:15. And there's what looks like song B as well, at 0:12.5. These two neighbors seem to have the same three songs in their repertoires. Fascinating. I didn't know neighboring tree swallows had similar songs, as if they learn them from each other.
Background
Other tree swallows, distant bullfrogs.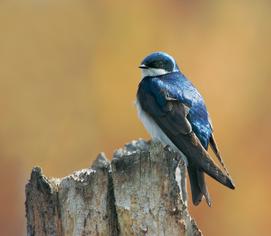 Photo by John Van de Graaff