SUMMER TANAGER VA-23
Richmond National Battlefield Park, Malvern Hill, Virginia
May 17; 7:34 a.m.
Sunrise at 5:59 a.m.
After an initial field sparrow song (same male as in VA-21, the summer tanager who had been singing in the background emerges to sing in plain view over the road. He offers four compact, discrete songs each minute, so different from what he does at dawn (IL-130).
Each song seems to have a different feel to it, and close inspection of the sonagrams verifies that. Each of the ten songs here begins with the same two phrases (a b), but after that it seems that anything goes. The song formulas for the first four songs are as follows: a b c d, a b e f, a b e d g e, a b b d g. He has a limited repertoire of these phrases, but he certainly has a large number of songs he could sing by rearranging his phrases into different patterns.
Background
A field sparrow is followed by this summer tanager, who displaces the field sparrow from his singing perch in the pine branches above Carters Mill Road. A pack of dogs choruses in the woods out where Confederate general "Stonewall" Jackson held ground many years ago. Distant birds: common yellowthroat, Kentucky warbler, red-eyed vireo. Wind and rain.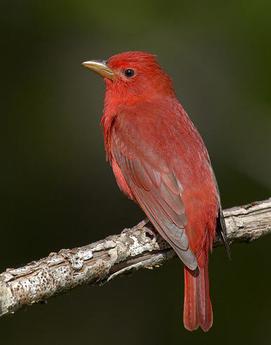 Photo by Robert Royse