NORTHERN CARDINAL VA-26
Shenandoah Valley: Camp Bethel, Fincastle, Virginia
May 10, 5:45 a.m.
Sunrise at 6:13 a.m.
How can one not love cardinals, the state bird of Virginia, Kentucky, and five other states!? In this brief selection, the foreground cardinal sings three different songs out of his repertoire of a dozen or so. As you listen, hear how he repeats one song over and over, then switches to a new song, as in the following minute-by-minute sequence:
A A A B B B B B
B B B B B C C
C C C C C C
Hear how tentatively this bird switches to a new song, as if he needs to think about the transition. In the first B song (bold above), he gives just a single introductory note for song B, and in the first two C songs (bold), he gives just one or two introductory notes to the new song.
After you've mastered listening to the foreground bird, try listening to the background bird as well. He sings two different songs, B and C. Here is the same notation as above, but with notes inserted for the singing of the loudest background bird:
(background male is singing B) A A A B B B B B
B B (at 1:23, background male begins to sing C) B B B C C
C C C C C C
The background bird is a little distant and not always easy to hear.
Background
Indigo bunting, at least two other northern cardinals, great crested flycatcher, Carolina chickadee, American crow, some distant traffic.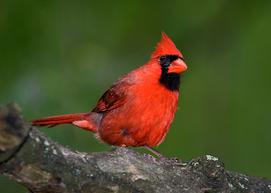 Photo by John Van de Graaff