COOKIE LADY, the late June Curry VA-34
Afton, Virginia
May 8, 11:00 a.m.
Sunrise at 6:11 a.m.
In 1974, "Bike Centennial" began planning its celebratory route across the United States, to be ridden by hundreds of cyclists during the Bicentennial Celebration in 1976. Onto the maps went the grocery store in Afton, on the eastern end of the Blue Ridge Parkway, but the grocery soon closed, leaving ill-informed cyclists with no source of food in Afton. To the rescue came June Curry, soon to be known as "The Cookie Lady."
"So, why are you called 'The Cookie Lady'?" I ask her. "Well, it started . . ." With a northern mockingbird and brown thrasher singing in the background, June reminisces in her backyard about the nearly 30 years that she's been an important part of cyclists' lives here on the Blue Ridge Parkway.
Sadly, June died at the age of 91, on 16 July 2012, after 36 years of befriending bicyclists on the TransAm route through Afton, Virginia.
Background
Northern mockingbird, brown thrasher, barking dogs.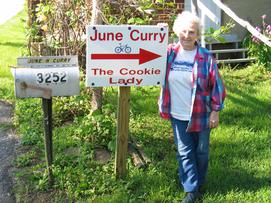 Photo by Don Kroodsma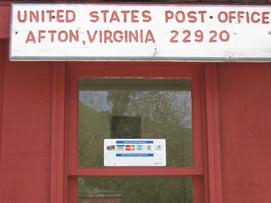 Photo by Don Kroodsma