CHESTNUT-SIDED WARBLER VA-42
Blue Ridge Parkway, Virginia
May 9, 10:00 a.m.
Sunrise at 6:10 a.m.
A third chestnut-sided warbler with three examples of his version of the "accented ending" songs, the pleased-pleased-pleased-to-MEETCHA.
Listen to all three examples of the chestnut-sided warbler's daytime, mate-attraction songs (VA-40, VA-42, and this recording), and compare them to the aggressive songs heard at dawn later in the season (VA-43).
Background
Black-and-white warbler, ovenbird.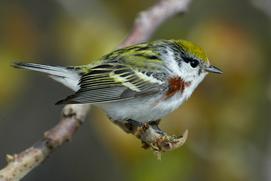 Photo by John Van de Graaff