BLACK-THROATED GREEN WARBLER VA-61
Atop Mt. Rogers, Virginia
May 26, 5:58 a.m.
Sunrise at 6:09 a.m.
A black-throated green warbler in full dawn effort, zree zree zoo zoo zree, repeating his dawn song over and over with a barrage of double-chip notes filling all time between songs.
Hear the raspy, buzzy nature of those zree notes, the more tonal effect of the lower zoo notes. Contrast this dawn effort with how he typically sings after sunrise (VA-62).
Background
Distant dark-eyed junco, American robin, American crow, and winter wren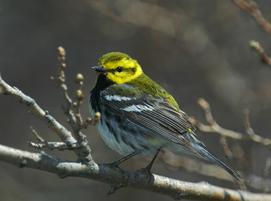 Photo by John Van de Graaff