AMERICAN GOLDFINCH WY-234
Sweetwater River, Split Rock, near Jeffrey City, Wyoming
June 11, 6:45 a.m.
Sunrise at 5:33 a.m.
Songs, calls of an American goldfinch. I've never listened carefully to a goldfinch sing, but here are 17 minutes to peruse!
On the first pass, I gather in the songs and the calls, simply noting them, enjoying the variety of them all, and loving the winds that the settlers on the Oregon Trail endured, the same winds that cyclists on the TransAm trail now battle.
On the second pass, I watch the sonagrams go by and listen. He begins with soft "po-ta-to-chip" or "per-chick-o-ree" calls, calls that we often hear from a goldfinch in flight, but here's he's perched.
During the first minute, all the songs seem to begin in much the same way, with the same repeated series of notes.
As I listen throughout, I realize that he sings a string of songs with a lot of phrases in common, many of the songs beginning with the same phrase. Then, soon, he's on to another series of songs with different phrases, and he works his way through his repertoire in this way. Within a given series, he introduces variation by including call notes at the beginning of songs, rearranging phrases within the song, varying the number of repeated notes within phrases, and more.
He's quite creative! With the familiar call notes often preceding the songs, there's a relaxed air to the overall performance, none of the intensity that is often perceived in a singing bout by birds of other species.
Background
Wilson's snipe, gray catbird, wind, yellow-breasted chat, quacking ducks flying by, yellow warbler, two jets that pass by, though they're buried in the sound of the wind.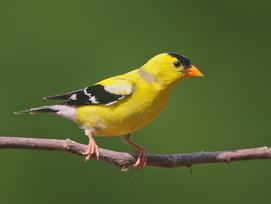 Photo by John Van de Graaff