EAR SPRING GEYSER WY-257
Yellowstone National Park, Wyoming
June 2, 9:09 a.m.
Sunrise at 5:41 a.m.
The Ear Spring, a four by six foot hot spring in the Upper Geyser Basin at Yellowstone. It's shaped much like an ear, hence its name; it boils and bubbles steadily, 24/7/365, endlessly, but at times surges (e.g., listen about 2:55 for the activity to pick up).
Background
Maybe a killdeer if you listen closely.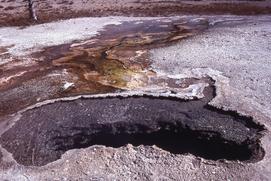 NPS Photo by Frank Balthis