CLARK'S NUTCRACKER, HERMIT THRUSH CO-206
The High Rockies: Alma, Colorado
June 14, 5:24 a.m.
Sunrise at 5:33 a.m.
With the songs of a hermit thrush prominent, a Clark's nutcracker calls nearby, Shraaaaaaaaaa, repeatedly. Both are songbirds, one a thrush, the other a corvid (in the jay and crow family). Both species get along just fine with the sounds that they make, but what a contrast in the sound quality of these two birds.
Background
Hermit thrush, mountain chickadee.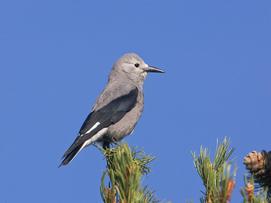 Photo by John Van de Graaff