HERMIT THRUSH OR-347
Over the Cascade Range: Sisters to McKenzie Pass, Oregon
May 25, 6:54 a.m.
Sunrise at 5:27 a.m.
Wind or calm, the show must go on, and this hermit thrush obliges for eight minutes just a few yards above me. He sings at a clip of 15-17 songs per minute, with well over 100 songs here.
Curious as to what's on his mind, I print out sonagrams of the first three minutes of his songs and start to catalogue them, listing all of the sequences that start with song A:
1) A B C D E F G
2) A B C E D G F
3) A B C E D F G
4) A B C D E F
5) A B C D B C D E C G
6) A B F D E C G
7) A B F D E C G F
8) A . . . (STOP AT 3:16)
He has seven different songs, and he tends to sing all of them before repeating himself, as he does in four of the sequences listed (lines 1, 2, 3, 6), but in these four examples he's found four different ways to deliver all seven songs. In the fourth sequence, he omits just one song (G), in the fifth he omits F but repeats B and C, and in the seventh he repeats F. It's nice seeing and hearing what he's up to.
Background
An Empidonax, another hermit thrush, yellow-rumped warbler, wind and creaking of trees.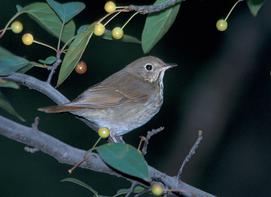 Photo by John Van de Graaff