TOWNSEND'S WARBLER ID-308
Lolo Pass and Powell, Idaho
June 9, 5:52 a.m.
Sunrise at 5:44 a.m.
One Townsend's warbler is in the foreground, a second in the background, both singing the local dawn song, typically with two short zweee notes, a much louder and longer ZWEEEEE, followed by the two loud concluding TSCHEW notes:
zwee zwee ZWEEEEE TSCHEW TSCHEW.
Listen to the vigorous chipping of the foreground bird, with singles, doubles, and even triple chips, up to 20 or so total chips between songs, which are delivered at a rate of about nine per minute.
Compare the dawn singing of the closely related black-throated green warbler back East (VA-61), and you'll hear a similar energy.
Background
Varied thrush, another Townsend's warbler, Swainson's thrush, western tanager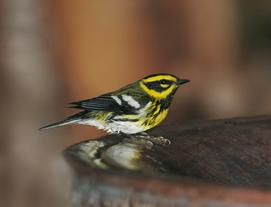 Photo by John Van de Graaff