WHITE-CROWNED SPARROW MT-270
Red Rock Lakes National Wildlife Refuge, Montana
June 3, 5:11 a.m.
Sunrise at 5:41 a.m.
A white-crowned sparrow, seven songs over a minute, competing with a robin for airtime. This is the bird who can be heard in the background from 0:54 to 1:47 in MT-269.
Here's a quick comparison of the songs of these three neighboring white-crowned sparrows: MT-269, MT-270, MT-271.
Background
Mostly vigorous American robins; yellow warbler.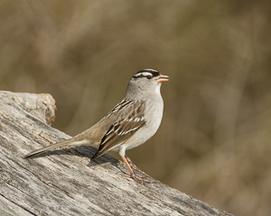 Photo by Wil Hershberger