WHITE-CROWNED SPARROW MT-286
Big Hole National Battlefield, Wisdom, Montana
June 6, 8:31 a.m.
Sunrise at 5:45 a.m.
A white-crowned sparrow singing the local dialect. Hear how different his songs are from the trio recorded at Red Rock Lakes National Wildlife Refuge (MT-269, MT-270, MT-271), or any place else (e.g., CO-212), for that matter.
Background
Yellow warbler, cattle, Wilson's snipe, American robin, Bullock's oriole, black-capped chickadee, brown-headed cowbird.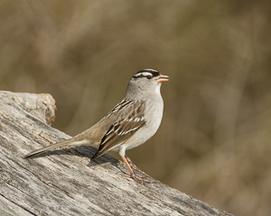 Photo by Wil Hershberger