BEWICK'S WREN OR-356
Willamette Valley, William L. Finley National Wildlife Refuge, Oregon
June 15, 9:18 a.m.
Sunrise at 5:27 a.m.
Seven songs of a second song type from this male Bewick's wren.
Here are the four different Bewick's wren songs that I recorded at my favorite Finley refuge location: OR-355, OR-356, OR-357, OR-358.
Background
Lazuli bunting, American robin, common yellowthroat, red-winged blackbird, bullfrogs, western wood-pewee.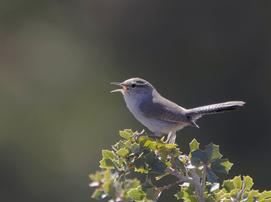 Photo by John Van de Graaff