GREAT CRESTED FLYCATCHER VA-27
Lake Anna State Park, Spotsylvania, Virginia
May 20, 5:34 a.m.
Sunrise at 5:57 a.m.
How nice to listen in on a great crested flycatcher at dawn. He sings from just overhead, but in such a curious fashion: He alternates one or two low, nearly inaudible buzzy twrp notes with one or two much louder wheeee-up notes. To my ears, he seems to use two different kinds of wheeee-up notes, often alternating them; one is more drawn out with the second syllable a low tonal note (at 0:02, for example), the other a little briefer with the second syllable a higher raspy note (0:04).
Here's an interesting exercise. Try listening to the following recording in which I've deleted all of the low twrp notes and all of the silent intervals between the wheeee-up notes. Now you hear all of the wheeee-up notes in rapid succession and can more clearly hear what seem to be these two different wheeee-up notes.
Then listen to the actual sequence from the bird once more and try to piece together in your head what he's doing in his head. You'll never listen to a great crested flycatcher in the same way again.
Background
Rain falling from the trees. Tufted titmouse, eastern wood-pewee, ovenbird. A distant motorboat out on the lake.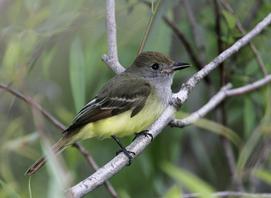 Photo by John Van de Graaff