YELLOW WARBLER WY-69
Sweetwater River, Split Rock, near Jeffrey City, Wyoming
June 11, 5:15 a.m.
Sunrise at 5:33 a.m.
A yellow warbler at dawn. Hear him chip vigorously between songs, and hear how successive songs are all different (except the two identical songs at 1:31 and 1:38). In these two and a half minutes, he sings five different songs, in the following sequence: A B C A B C B C B D C D A E D E E C D B A C. He is truly fired up! If he sings like other yellow warblers, he'll have another half dozen of these dawn songs that he's not revealed here.
To hear how calmly he sings during the daytime, listen to IL-94
Background
Yellow-breasted chat, wind, another yellow warbler.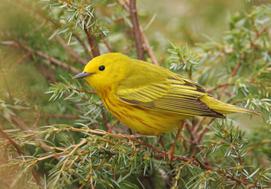 Photo by John Van de Graaff