YELLOW WARBLER ID-309
Central Idaho—Lava Hot Springs, Idaho
May 30, 5:19 a.m.
Sunrise at 5:54 a.m.
Positively exhilarating! Here is a yellow warbler in full dawn mode, chipping between songs and delivering an extraordinary variety of songs. I found him irresistible, and spent some time studying the sonagrams, finding myself mentally exhausted after contemplating just the first three minutes of this 11-minute selection.
And here are those first three minutes:
A B C D E D F B B G H I E D
F J C A K L K K B I E D F D
F J C A M A L N B G O I E D F
I boldface the first occurrence of each song, and it's clear that in the first minute alone he's delivered most of what he knows. But three new songs still occur in the third minute, and he probably has a few others that he can sing that he just didn't get around to yet. What a different mindset from how he will behave after this dawn performance, when he'll use just one song over and over, one that he has excluded from this dawn effort (compare IL-94).
(Compare the singing of his immediate neighbor in ID-310.)
Background
Mourning dove, American robin, dusky flycatcher, spotted towhee, another yellow warbler, ring-necked pheasant (8:32, 10:54).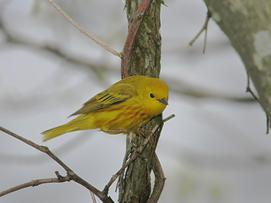 Photo by John Van de Graaff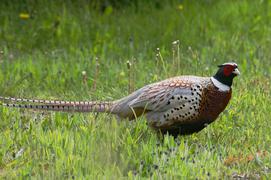 Photo by John Van de Graaff