SPOTTED TOWHEE CO-194
Climbing the Rockies: juniper habitat, Temple Canyon Park, Canyon City, Colorado
June 8, 4:39 a.m.
Sunrise at 5:37 a.m.
A spotted towhee in dawn mode, eager, it would seem, to tell everything he knows in as short a time as possible. These aren't the standard drink-your-teeeeeee songs of the eastern towhee, with only two or three distinct introductory notes followed by a trill of rapidly repeated phrases. Instead, most of these songs consist of two to eight identical drink notes followed by a faster trill, typical of Colorado's "mountain race" of the spotted towhee.
If I letter the songs by the minute, I come up with the following:
A B C D B C D B C B (the first two B songs are incomplete)
B C B B B B C B
C E C B C F C E B
B C B C B E C B E
Successive songs are usually different, though immediate repetition of song B occurs during the second minute. He has a repertoire of at least six different songs (A-F), more than would be expected of an eastern towhee, not quite as many as a west coast spotted towhee might have.
Background
Gray flycatcher, western tanager, both in dawn song.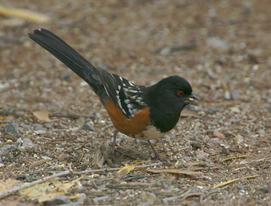 Photo by John Van de Graaff