SPOTTED TOWHEE ID-298
Cambridge, Idaho
May 28, 5:11 a.m.
Sunrise at 6:05 a.m.
Spotted towhees, lots of them, at least five audible in this recording. The foreground bird sings clearly, repeating one of his songs eight times before switching to a new one (at 0:52), which he then offers seven times (for a singing program here of 8A 7B). The near bird in the background alternates two songs throughout.
Background
An American robin singing constantly.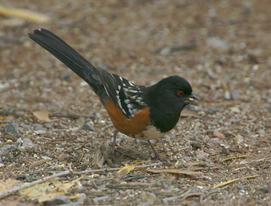 Photo by John Van de Graaff