SPOTTED TOWHEE, SWAINSON'S THRUSH OR-354
Willamette Valley, William L. Finley National Wildlife Refuge, Oregon
May 23, 4:54 a.m.
Sunrise at 5:37 a.m.
A spotted towhee awakes, calling zhree zhree at first before singing 47 songs over nearly four minutes, at a clip of about 12 songs/minute. He uses three different songs and alternates songs A and B some, but then repeats song C 11 times during the fourth minute. He is just awaking, and will likely build to a more intense dawn performance when two or even three different songs are consistently alternated.
Spotted towhee song sequence by the minute:
A A A A A A B A B B
B B B B B B B A B A B A B
A B B A B A B B A B A B A
C C C C C C C C C C C
The Swainson's thrushes are also awaking. They call at first, the nearer male using a rising, tonal sreee, but he switches to another call at 0:52 to match his neighbor's call (best heard 1:00-1:03). At 1:07 the foreground male switches to yet another call, a brief tonal note followed by a rapid trill, and the background male can be heard giving the same call by 1:40. They clearly communicate in some fashion by matching each others' calls at dawn, before they begin singing (first song heard at 2:28).
Background
Swainson's thrush (calls beginning at 0:02; first song at 2:28), great horned owl, American robin, cattle, common yellowthroat, house wren.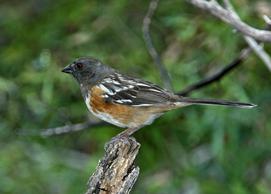 Photo by John Van de Graaff